We Are Now a Co-op MG Network Partner
Which means you can WIN! cash.
Click the button below to learn more.....

Here at Kungfusurf adult sites are NOT allowed
"see agreement"

You get MORE CREDITS faster!
(No Costly Upgrade Here ALL Members are Free)
No Fancy Scripts or Gimmicks. Just a Ton of Credits
Click/mouseover surfing. Sites Auto Aproved in 30 seconds.
You MUST Still surf 50 sites to Validate your membership

So What Does Your FREE PLATINUM MEMBERSHIP Get You

5000 Free Credits per Month
and 2:1 Ratio (2 credit per 1 sites visited)
Promote 100 sites & 100 banners!
Enjoy a Timer of just! 5 seconds

On Top Of All That You Get FREE!!! System Assigned referrals

Earn A Ton Of Credits From Your Referrals Tell EVERYONE!
Progressive Surf Ratio! (5% every 20 sites surfed)
Earn increased surf ratio for the next day!
(10% every 50 sites surfed)
Daily, weekly & monthly surf contests prizes!
As you surf your Rewarded with Big Bonus Credit pages
Remember to UPGRADE EVERYONE Should be PLATINUM
YOU MUST surf 50 sites & Join The Traffic Machine! (also Free!) to get your Free! kungfusurf *PLATINUM* upgrade

Many new members have NOT been getting their Validation emails due to aggresive email filters. So please "white list" webmaster@kungfusurf.com
Please use Gmail To receive your Validation Email!

#1 Web Hosting*Free Domain name*30 Day Money-Back Guarantee. Watch This two & half minute Video
--------------------
*Free! Traffic From Banner Exchanges*

--------------------
*GREAT! ADVERTISING*
"KUNG-FU STYLE"



Get Linked from 16,000 + sites with one click.
--------------------
* LIST BUILDING*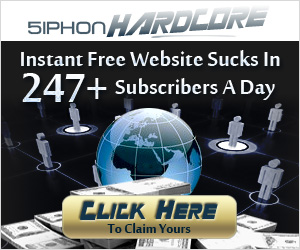 DesktopLightning - Click Here For Free List Building Traffic

--------------------
*LINK BUILDING & ONEWAY BACKLINKS *